Available Now:
SnowMaker: An LGBT Fantasy Western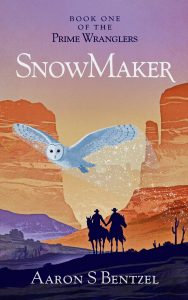 A fantasy western set in a reimagined West. Here, powerful creatures known as Primes roam the frontier, and daring Wranglers risk their lives to capture them.
In this first installment, Cazo Briggs finds the stable life he has built for himself in a western boom town upended by the sudden appearance of a deadly figure from his boyfriend's past.
Available Now:
MoonCatcher: An LGBT Fantasy Western

Book 2 in the Prime Wranglers saga, and the direct sequel to SnowMaker. In this adventure, Cazo follows a mysterious Prime out onto the High Plains, where he gets wrapped up in a conflict between his native Republic and the Tribal nation known as the Redhands.